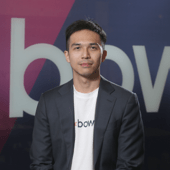 Michael Chan
Co-CEO – CEOs
Michael is the Co-Founder & Co-CEO of Bowtie Life Insurance Company, a mission-driven life and health insurer in Hong Kong. As a Co-Founder, Michael is passionate about driving Bowtie's mission to close the health protection gap in Hong Kong through simple and accessible protection.
Before launching Bowtie, Michael also co-founded Coherent Capital Advisors and Seasonalife.
Michael is a Fellow of the Society of Actuaries (FSA), a member of the Actuarial Society of Hong Kong (ASHK) and a Certified Financial Planner (CFP) professional.